Archive for the 'oops' Category
So it appears as if two of the East Coast Brothers of the Lodge are making our way to Ink N Iron to do some work…..Brother Nick Schonberger and I will be there to represent and get after some truths…..
So being back in the Garment Business is ok…I will not say it is fun, & I am ecstatic to be back, but it has it's moments…I will say that.
I am constantly reminded however, how much I do hate the production game. But as I & many others know, if you get it right it is all gravy & the cashish allows you to do all that you want when & if you have the fucking time to do it.
So this week I was in Paris again…2nd time in 2 weeks…this time I was there to look at Fabric. I need to source some fabric that was urgently needed. So there I was on the train heading to Paris & Premiere Vision, & Texworld.
2 completely different shows.
Premiere Vision is quite a bit more stylish, in fabric & peoples general appearance. Everyone is working their look, well not everyone but a good 90% of everyone there has a look worked out & they strut that stuff real fucking hard. On the menswear side of things there seems to be a lot more of the Pink feel about it…no not homophobic at all, I am just saying it as it is. It is a bit of an eye opener on hetrosexual behaviour, it is always a bit strange when a man looks at you & kind of undresses you with his eyes. Make me think about how many times I have done that to a woman, & no doubt the women have a bit of the same feeling. But at the same time, being a bit of an egotist, nice to be looked at…just wish it was more women doing it to me at the show than the men. Ok, ok…it was not a lot of the time…just 2 or 3 men…but hey that was enough to make me feel good & uncomfortable. Think I better shut up & kill this subject now.
There are some amazing fabrics available at Premiere Vision & you have to pay for them. Still one of my favourites is A-Girls from Japan…some of the best sweat & jersey fabrics that you will ever see…but so fucking expensive it is crazy. & Then there is the Cotton Mill Limonta…they make some great woven fabrics & a lot of the high end Labels use Limonta & their lovely fabrics…so so nice.
But all that was way to frustrating for me…so next day Texworld.
Texworld could not be any different. We are talking mills from China, Taiwan, India, Pakistan & Turkey to name a few…all for the Volume, Mass Market. The 1st thing that I did like about Texworld was that there was an Indian Food Stand, & yes all my brothers were there eating all that fine food. It was not bad.
The show is much more simple, but you can still find some amazing fabrics, but you have to buy 1000's of metres & the prices reflect this. Since i am know doing a lot more mass market product,it was good to go onto stands & say that I am looking to buy a minimum of 10000m of fabric. Talk about an attitude changer, they were almost ready to give me anything I needed & the girl on the stand ha hah.
Now if they treated me like that at Premier Vision…I may have taken them up on their offer, the girls on Limonta are rather nice.
But 2 days of just looking at fabric after fabric is just a mind fuck…I feel numb & tired…or I am just jaded & done it all before ha hah. Either way a mind fuck indeed.
One thing that did happen that I liked. I got to go to my friend Mario's new bar Flaq, & order Pizza from his other place La Drogheria (I did my show their last January), & not just any pizza, the Fats Shariff pizza. You know what it was pretty damn good…even with that egg thrown on it.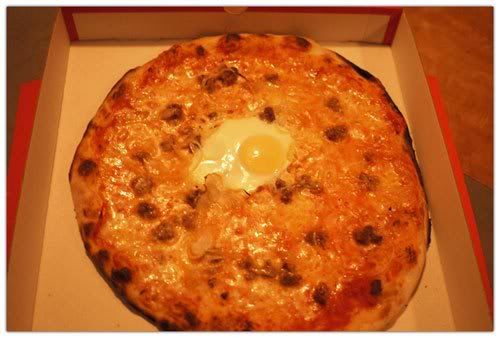 OK now back to the grind !!!
Be Well.
IF you have never read Robert Anton Wilson….turn your computer off and go read as much of this man as you can!
This is American Brilliance…..
So have just found out that the Motherfuckers that we were using to front our office in Morocco have done a fucking runner & left us in a bit of shit.
I had a feeling that these people were a bunch of users, but no one would listen to me. I was wrong, but guess what I was so right & just like a little kid who gets their way I was so happy when I got to say that old expression, 'I told you so.' & my people had to take it.
It still makes me question the balls of people like this. How can they do it? How can they look you in the face & know the whole time that they will fuck you over. That criminal mentality has never been one I can get with. I understand it, but could never act on it.
Due to all the many movies I have seen I would like to find some wonderful way to get even, Mr Marsellus Wallace comes to mind, 'I'm gonna call a couple of hard, pipe-hitting N***as to go to work on homes here…I ain't through with you by a damn sight. I'm gonna get medieval on your ass…'
But as normal I will sit by continue on my merry way & allow Karma to take control of the situation, but sometimes Karma needs a push…you know.
I do wish at times that I could get Mafia on people & break a few bones to prove a point. I have some one in Paris that I could do that to, & now these 2 clowns in Morocco.
Ah well Karma it is.
Be Well
So here we are a few weeks into all these Wikileaks exposing this & that, & showing Governments true face & thoughts. While some may see them as shocking & a 'Threat' to our security, I see them as an insight that many of the people involved are human.
We shoot the shit on the daily & tell tale on a few, & even go far as gossip mongering. I find it quite refreshing that the powers that be apply their use of freedom of speech. That is what it is, people having open conversations about their observations & analysis on events & situations that they discover or find themselves in.
I think the biggest thing is the evidence of how this exposes what we already know, that Governments do not trust the people enough to be candid or honest. I am left to think that they assume we can not handle the truth, where as we can handle more of the truth than they give us credit for.
What a different world we would live in if all that has been revealed was in open dialogue & we truly knew where we stand. Perhaps there would be a bit more angst amongst countries & people, but at least we have an realistic view of where we are heading. Isn't freedom of speech one the supposed foundations of our so called Democratic Society.
I say learn from this & trust us.
Be Well.
By now, and unless you have been living underneath a rock, you would have heard and maybe ever read some of the recent Wikileaks, well, leaks. Now there are a couple of thoughts on the subject that have been creeping up and been discussed at home. For one, hardly any of the released "secret" – most of the documents are not secret- really aren't that groundbreaking in content. The diplomatic assessments of other countries and their heads of state is exactly what diplomats are supposed to do these days, and the US is not alone in this. I would wager that pretty much every other country does the same. What is a major issue at stake though and I am not seeing this being debated, is a more elemental problem with US foreign policy- it is conducted through an intelligence apparatus immune to the rule of law and unaccountable to the constitution.
Another point that has had me thinking a lot in regards to the above is the reaction by not only the US government but by the majority of the effected governments: let's hunt those responsible down, maybe even kill them, and shut down the site.
Quite frankly, I find that to be hugely disgusting and the by far much more dangerous aspect of all this. To put this into context, wikileaks was shut down within a week and Assange had to go into hiding. Osama Bin Laden is out there and laughing his ass off.
Secondly, and this is a deeper problem, really, what these leaks show is the immense alienation, and I dare say, disdain of our governments from it's populace.
I know, not groundbreaking at first glance, but for the first time we have hard proofs that show this, that really take it beyond the bar room discussions of sticking it to "the man". The outrage shown by the governments, in my mind, clearly show that the last thing "they" want "us" to know is how they conduct business. And that's serious bullshit. Democracy has become so perverted that our "leaders" clearly feel no idea to show any accountability to those that grant them power to govern. Their attempts to shut wikileaks down reminds me of the actions of a little child that was caught by its parents doing something it shouldn't do. Furthermore, the reactions cement the fact to me that our "leaders" clearly hold a huge level of disdain towards "us", and that, is what we had, at least in Europe, up until 1789 when "we" finally burned down some castles and freed "us" of our "princes and kings".
There is more, but I haven't had time to formulate it all.
Who fucking knows when it comes to Women.
I am just left with the thought that we men will never understand women. I just don't get it at all any more…not that I ever really did.
So been a single man near on 3 years & in that time I have had my fun & went out with a delightful lady for 6 months, but I will be honest I was a real assbag & that ended…& now, well lets just say, that bird has flown.
But while we are here, the way that certain women's minds work is Gods own private mystery. I find some women so vague & non committal, no matter how vague or to the point we as men can be…or should I just say, how I can be.
I like it when it is plain & simple…straight up no messing…tell it how it is, & that way everyone knows where they are, & you can step accordingly. How ever the few of the Fairer Sex that I have been speaking to of late…wait…Fairer Sex, who named them that…ok they might be Fairer on the eye, but hell they are not all Fair that is for damn sure.
So I am being mixture of Upfront, Cavalier & Honest…& it gets me no where. YOU never know where you are & you have no idea where you are going.
Maybe I am talking to the wrong women.
What the fuck is that ?
Why do we all have to play games…straight up & confident should be the order of the day. hell if you are not interested just say so, & fuck the vagueness. But then same as we, Women do like to have someone paying them attention & someone they can keep in their Rainy Day Bag.
Anyway…fuck it, just got to carry on init.
Rant Over.
"We are all born brave, trusting and greedy, and most of us remain greedy."  -Mignon McLaughlin
In America, we like to capture, kill, bottle, and sell our threats back to ourselves.  Wonderful gem I came across in a Florida truckstop…