The last issue of Propermag pointed me towards this northern electronics duo The Chanteuse & The Crippled Claw. The elven-like voice of Candie Payne is accompanied by the electronic-soundscapes of Adrian Flanagan to form a somehow folk-inspired, magical pop-track. Or the perfect soundtrack for the coming days of spring. "Are You One" is available via iTunes or on 7″ vinyl. The music-video has a fantastic, surreal aesthetic that one simply has to love.
Heavy Fucking Metal Bread. Eat this!!!!!

For the fashion conscious gamer in your life I proudly present to you the CONTRA sweater:
I know some fellow Germans might find that offensive, but do yourself a favour and remove that stick out of your rectum and check this out. Funniest thing I have seen in a long time.
Not that any of you need yet another random image based tumblr blog to look at, however, I just started one ( I think this is my 4th to be honest, I hated all the other ones ) and before you go off hating on the content – it all makes sense in my head. I consider it a storage place to over time, collectively creates a mood for a project I am working with Nick.
Here is the link. Go waste some time.
So being back in the Garment Business is ok…I will not say it is fun, & I am ecstatic to be back, but it has it's moments…I will say that.
I am constantly reminded however, how much I do hate the production game. But as I & many others know, if you get it right it is all gravy & the cashish allows you to do all that you want when & if you have the fucking time to do it.
So this week I was in Paris again…2nd time in 2 weeks…this time I was there to look at Fabric. I need to source some fabric that was urgently needed. So there I was on the train heading to Paris & Premiere Vision, & Texworld.
2 completely different shows.
Premiere Vision is quite a bit more stylish, in fabric & peoples general appearance. Everyone is working their look, well not everyone but a good 90% of everyone there has a look worked out & they strut that stuff real fucking hard. On the menswear side of things there seems to be a lot more of the Pink feel about it…no not homophobic at all, I am just saying it as it is. It is a bit of an eye opener on hetrosexual behaviour, it is always a bit strange when a man looks at you & kind of undresses you with his eyes. Make me think about how many times I have done that to a woman, & no doubt the women have a bit of the same feeling. But at the same time, being a bit of an egotist, nice to be looked at…just wish it was more women doing it to me at the show than the men. Ok, ok…it was not a lot of the time…just 2 or 3 men…but hey that was enough to make me feel good & uncomfortable. Think I better shut up & kill this subject now.
There are some amazing fabrics available at Premiere Vision & you have to pay for them. Still one of my favourites is A-Girls from Japan…some of the best sweat & jersey fabrics that you will ever see…but so fucking expensive it is crazy. & Then there is the Cotton Mill Limonta…they make some great woven fabrics & a lot of the high end Labels use Limonta & their lovely fabrics…so so nice.
But all that was way to frustrating for me…so next day Texworld.
Texworld could not be any different. We are talking mills from China, Taiwan, India, Pakistan & Turkey to name a few…all for the Volume, Mass Market. The 1st thing that I did like about Texworld was that there was an Indian Food Stand, & yes all my brothers were there eating all that fine food. It was not bad.
The show is much more simple, but you can still find some amazing fabrics, but you have to buy 1000's of metres & the prices reflect this. Since i am know doing a lot more mass market product,it was good to go onto stands & say that I am looking to buy a minimum of 10000m of fabric. Talk about an attitude changer, they were almost ready to give me anything I needed & the girl on the stand ha hah.
Now if they treated me like that at Premier Vision…I may have taken them up on their offer, the girls on Limonta are rather nice.
But 2 days of just looking at fabric after fabric is just a mind fuck…I feel numb & tired…or I am just jaded & done it all before ha hah. Either way a mind fuck indeed.
One thing that did happen that I liked. I got to go to my friend Mario's new bar Flaq, & order Pizza from his other place La Drogheria (I did my show their last January), & not just any pizza, the Fats Shariff pizza. You know what it was pretty damn good…even with that egg thrown on it.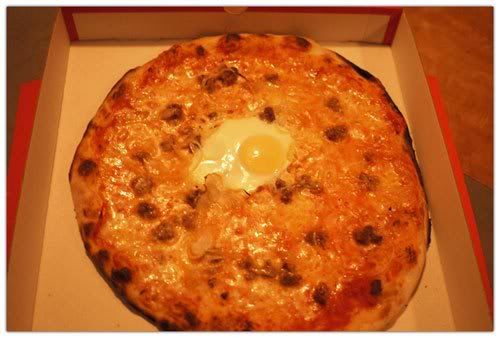 OK now back to the grind !!!
Be Well.